Project ATON: Acquisition of a portfolio of solar plants in the North-East of France (95 MWp)
A portfolio of 6 photovoltaic parks under construction ("Greenfield" project), located in the northeast of France, has been purchased by Siloé Infrastructures from the French renewable energy developer TSE (formerly Third Step Energy).
All 6 photovoltaic parks amount to an installed capacity of 95 MWp. They are divided as follows:
5 sites located in Marville (Meuse department) for an installed capacity of 76.5 MWp. These assets are part of a set of 152 MWp co-developed with Enerparc, representing the second largest solar plant in France
1 site located in

Oxelaëre

(Nord department) for an installed capacity of 18.4 MWp.
The Marville project is located on a former NATO airbase, and the land is owned by the Communauté des Communes du Pays de Montmedy. The Oxelaëre site is an old SNCF brownfield, owned today by a private lessor. As such, both sites are not encroaching on farmlands and the photovoltaic installations are rehabilitating existing sites.
All 6 projects are entirely developed and have been granted an Additional Revenue contract for 20 years, following a tender by the CRE (French Energy Regulation Commission) with competitive prices.
The assets were built by SPIE under a turnkey contract and will be operated and maintained by Altus Energy via long-term negotiated contracts, thus minimizing the operational risk.
The Marville and Oxelaëre projects were commissioned in 2021.
Siloé Infrastructures is taking part in the energy transition with this portfolio that will generate 100 GWh of green energy in 2022, which is equivalent to the annual consumption of a town of 23,000 inhabitants.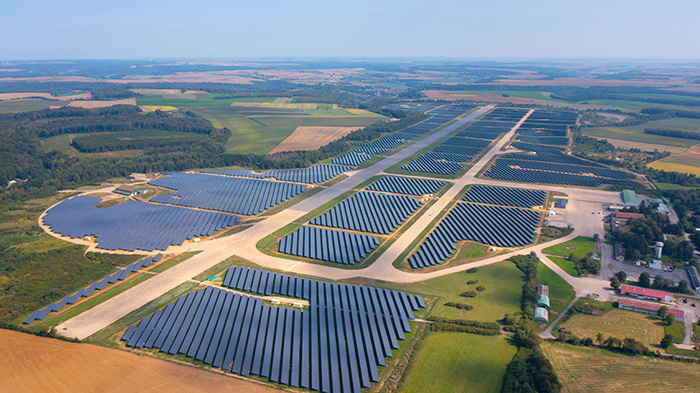 CSR Focus
Special attention was given to the CSR and environmental policies of the projects. Located on lands under rehabilitation, they are supported by key environmental measures. On Marville's site, besides the €800,000 invested in cleaning up the site, a budget of €400,000 was granted to foster biodiversity recovery: return to a natural state for concrete areas, creation of plant covers and eradication of invasive species. On Oxelaëre's site, environmental mitigation is currently implemented to promote natural habitats for various bird species: two wetlands are in prospect, alongside the creation of a meadow. The ecological monitoring of fauna, in order to preserve natural environments and to remove invasive exotic species, will allow the land to regain local biodiversity from over 30 years ago.
Finally, the CSR impact of the photovoltaic parks will be rigorously monitored during the lifespan of the projects, in accordance with the monitoring protocol for projects funded by Siloé Infrastructures.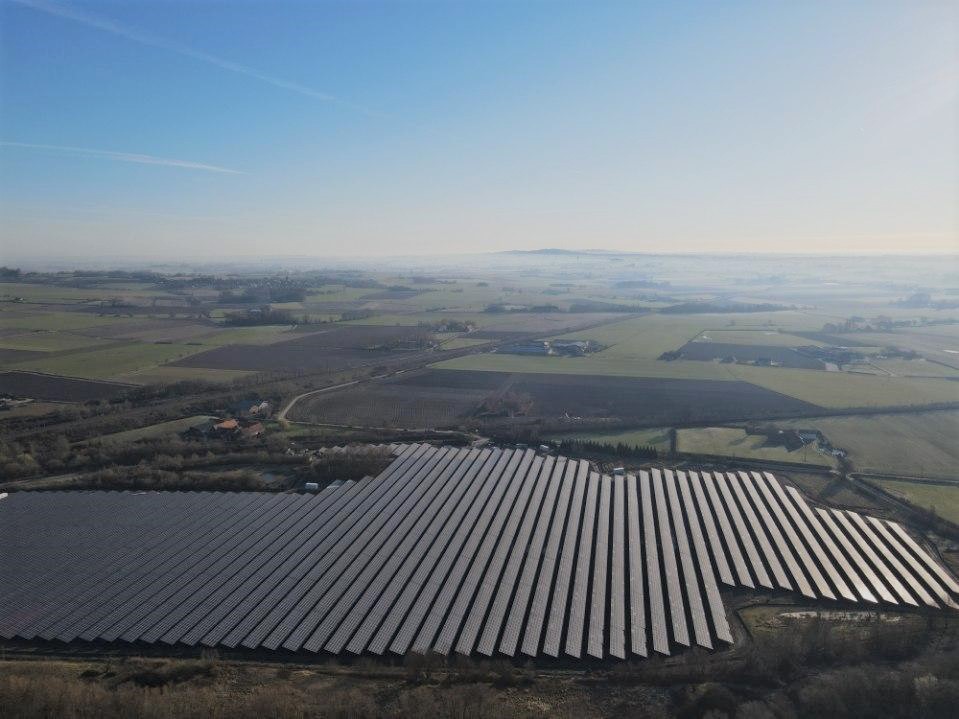 Project HEXAGON: Creation with TTR Energy of an independent electricity producer supported by a pool of financial partners to develop, finance, build and operate wind projects (770 MWp)
Crédit Mutuel Impact, formerly Crédit Mutuel Capital Privé, through the Siloé Infrastructures Fund, acted as "Lead Investor" to structure the purchase by Hexagon Renewable Energy ("Hexagon") with / which includes a portfolio of 19 wind farms in France, amounting over time to a potential total power production of over 770 MW. This transaction fits within Hexagon's long-term development plan. In time, the green energy produced by Hexagon should be equivalent to the electricity consumption of over 360,000 people.
Hexagon is an independent electricity producer, managed by the TTR Energy group, developing, operating, and investing in renewables for the past 12 years. Alongside Siloé Infrastructures, Crédit Mutuel Impact and TTR Energy have gathered top-tier investors to take a stake in Hexagon, through dedicated funds: Amundi Transition Énergétique, Banque des Territoires (Caisse des Dépôts), Generali Global Infrastructure and Mirova.
Besides bringing capital, the team at Crédit Mutuel Impact has showcased its know-how in arranging private equity transactions by actively participating in the definition of the transaction settings and in the coordination of interactions between investors and TTR Energy.

The projects are mainly located in the eastern and northern regions of France. Two projects are based in Brittany. The wind farm portfolio consists of: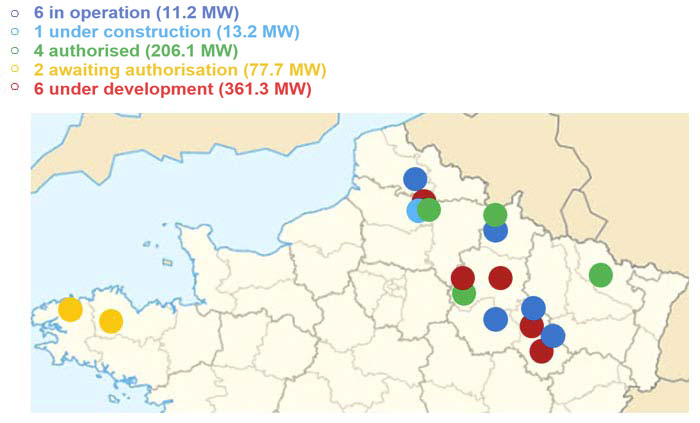 CSR Focus
Throughout its development, TTR Energy has paid a great attention to the ESG impact of its projects (from an ecological, economic, and territorial viewpoint). In this context, besides the production of green energy generated by the transaction, special care has been given to the implementation of an impactful CSR strategy.
As stated by Gauthier De Potter, founder and co-CEO of TTR Energy: "TTR's philosophy is to accelerate the energy transition by joining forces with flexible and independent partners. The partnership created for Hexagon Renewable Energy, with shareholders strongly committed to renewable energy, is perfectly consistent with this objective. Hexagon Renewable Energy provides an alternative to large companies, by focusing on proximity and working in close partnership with local authorities. This coordinated approach maximizes production, while minimizing disruption and customizing projects to local specificities and expectations."
This approach will require the implementation of a CSR Charter and the definition of clear sustainable development objectives, monitored over the project's lifespan.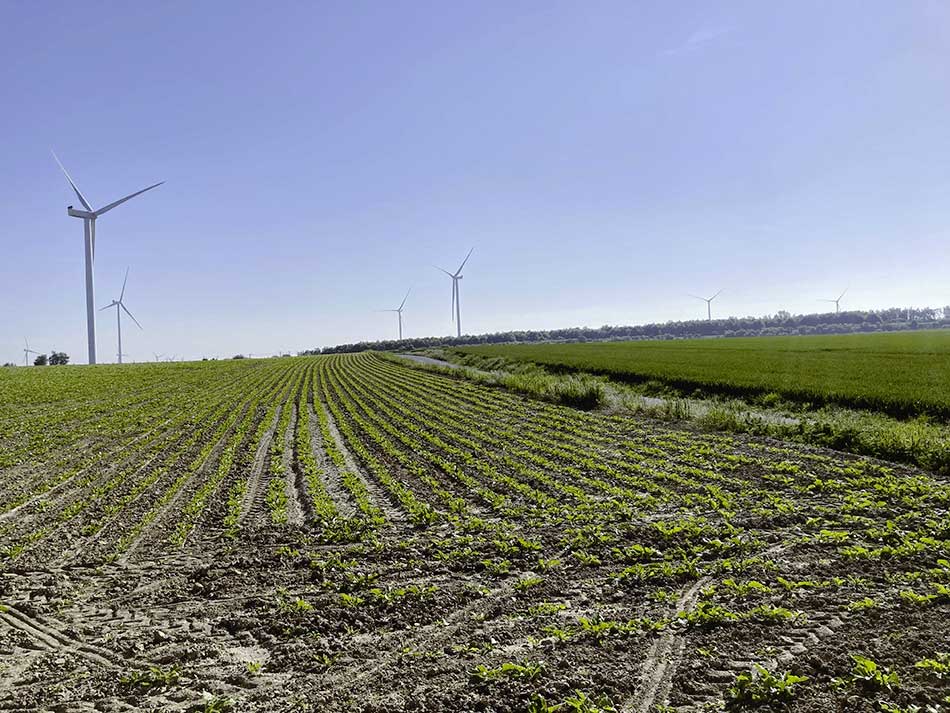 Projet GUEPARD: Acquisition of a portfolio of wind farms in Western France (35.2 MWp)
A portfolio of 4 wind farms, for a total capacity of 35.2 MW, has been purchased by Siloé Infrastructures from the French renewable energy developer Voltalia. These farms consists of:
1 operating farm, located near Adriers (Vienne department) with a capacity of 10.0 MW. It has been in commission since late 2014, with an "E08" feed-in tariff;
3 farms that will be commissioned by the end of 2021, near Coivert and Vergné (

Charente-Maritime

department) for a total capacity of 25.2 MW. Two of these farms will be subject to additional revenue according to the "CR17" decree, while the third will sell its production via a 25-year "corporate PPA".
These 4 wind farms have been developed and built by Voltalia. The operating and maintenance will be provided by the turbine supplier Vestas for the farm in Adriers, and by Voltalia for the 3 other farms.
With an expected annual production of around 93 GWh, these sites have favourable wind conditions and will generate enough electricity for a town with 21,000 inhabitants.
CSR Focus
Special attention was given to Voltalia's CSR policy, since it acts as both developer and constructor on these projects. The company takes a great care in the way it operates, which can be seen notably in the development of its wind farms.
Following impact studies, compensatory measures have been implemented to minimise the impact of wind turbines on the local bird and bat populations. The CSR impact of the wind farms will be rigorously supervised during the operational phase of the projects, according to the monitoring protocol set by Crédit Mutuel Impact.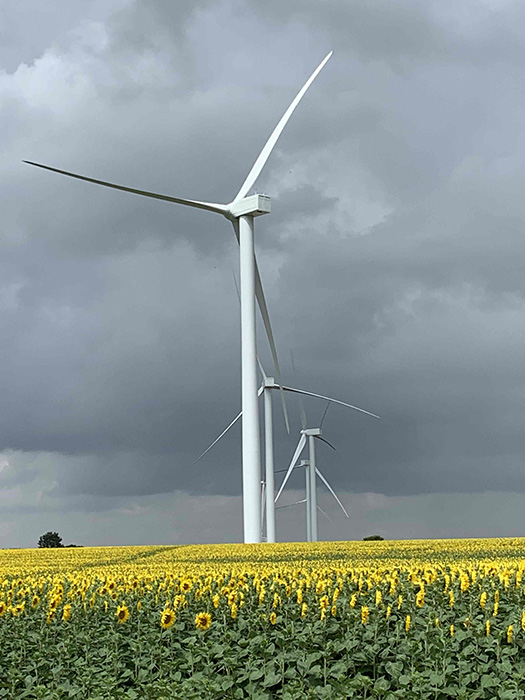 Projet TRAMONTANE : Solvéo has raised capital to finance a pipeline of greenfield renewable energy projects in France (1,2 GWp)
Solvéo has raised capital using equity. The family-owned medium-sized company based in Toulouse was initially specialized in electrical engineering, before diversifying its activity towards renewable energy through the development of solar and wind projects, in the Midi-Pyrénées region, then all over France. Thanks to capital raised, Solvéo can keep control of the developed projects.
The development pipeline includes:
800 MW of wind projects
450 MW of solar projects: roof- or ground-mounted, and shelters
This pipeline should be completed between 2021 and 2028
Solvéo will act as developer, constructor, and operator on the projects.
Siloé Infrastructures Fund is a minority shareholder with a right to examine strategic decisions.
With this project, Siloé can help clients of Crédit Mutuel over the long term, with the implementation of a project portfolio over 5 to 7 years and the distribution of the margins for development, construction, and maintenance among investors.
Projet APHAIA : Investment in a solar plant development platform in France (>1 GWp)
TSE wanted to select a group of investors who could help in developing a platform of ground-mounted photovoltaic projects in France, by securing the successive equity investments required until the plants' commissioning.
The goal of the platform is to commission over 1 GW of solar projects by 2025, among which many have already been identified and have reached various stages of development, for an estimated total Capex amount of over €900 million.
Siloé Infrastructures took a minority interest in this platform, alongside Banque des Territoires and TSE, which will be responsible for developing the pipeline (identifying sites, monitoring construction permits requests, obtaining regulated prices, securing bank financing).
Thanks to the strong relationship created with TSE, due to the fund's investment in the Marville and Oxelaëre projects, negotiations between shareholders have reached a long-term balanced partnership.
Moreover, this project represents for the fund a significant investment in a large greenfield portfolio (>1 GW) with a very limited development risk.